simple choreography for your mouth--even if it has two left feet!
VOICE
SPEECH & DICTION
REGIONAL DIALECTS
FOREIGN ACCENTS
PERIOD PIECES
Looking to make your next production more authentic? More believable? I've worked with hundreds of actors, and would love to work with you! My approach is simple, tangible, and FUN!! It incorporates what the actor sees and feels—rather than solely focusing on what the actor hears and imitates (often inaccurately). I do not use the confusing abstract concepts many speech methods do. Principles are learned physically rather than memorized mentally. This ensures improved intelligibility, retention, consistency, and believability, as well as expanded acting choices—something you just can't get from listening alone! I'd love to work with you on your next acting or public speaking project, assist you in mastering multiple accents/dialects, or just help you improve your overall speech!
SAMPLE LIST
Transatlantic / Mid-Atlantic
Standard American
Southern American (various)
Western / Mid-western American
New York (various)
Boston / New England
Chicago / Great Lakes
Standard British (RP)
Estuary
Cockney
England Regional (various)
Irish
Scots
Australian
French
German
Italian
Spanish (various)
Russian / Slavic
Scandinavian
Thai
Mandarin
Arabic
West African
Coaching sessions are currently offered:
online via video chat (FaceTime, Skype or Zoom)
in person (in Los Angeles)
INDIVIDUAL ACTORS
Private one-on-one coaching for individual actors offered on a short-term or ongoing basis. Learn one or more accents/dialects.
PRIVATE COACHING OPTIONS:
SKIM AN ACCENT/DIALECT: 1 session
Need lightning fast assistance? Have a last minute audition with only a few lines? With the Quick Skim Option, you'll learn only the accent/dialect vocal changes needed for your specific script. The goal is for you to sound as believable as possible when speaking your scripted lines.

LEARN AN ACCENT/DIALECT: 2 - 4 sessions
Need to prepare for an upcoming audition or role requiring an accent or dialect? With the Learn Option, you'll incorporate the accent/dialect's "leading action" into your muscle memory to ensure consistency. We'll cover all the vocal changes for the accent/dialect in case you need to improvise in character. As you progress, we'll work to fine-tune the accent/dialect to fit your character choices and ensure intelligibility. The goal is for you to feel adept using the accent/dialect as an acting tool.

MASTER AN ACCENT/DIALECT: 5+ sessions
Want to improve your range as an actor? With the Master Option, you can choose your own goals:
1) mastering one accent/dialect as you explore its spectrum of options from broad character voices to nuanced realistic ones;
2) learning or mastering multiple accents/dialects;
3) improving any voice or speech problems

PRIVATE COACHING RATES:
$75-$135 - Quick Skim Session - rate determined based on length of your audition script (sides)
$135 - Learn / Master session
$500 - package of 4 Learn / Master Sessions
Sessions valid for 90 days from date of purchase.
PRODUCTIONS
Coaching for stage, film and voice over productions offered for entire casts, lead roles only, and/or individual character parts.
COACHING FOR
THEATRE PRODUCTIONS:
Are you a theatre producer or director? Or perhaps a high school drama teacher? I would love to work with you to ensure your production is first rate with speech that is both believable and intelligible! Coaching for stage productions usually includes:
1) A 60-minute intro session held at the beginning of the rehearsal process to introduce concepts and retention techniques;
2) One or two mid-process follow-up sessions in which I attend regular rehearsals, give notes, and answer questions;
3) A final follow-up observation with notes held shortly before opening.

COACHING FOR FILM & VOICE OVER PRODUCTIONS:
Are you directing or producing a film with characters from another place or time? How about an animation project? Do your actors sound clear and convincing? I would love to work with you and your actors to ensure their speech is both believable and intelligible! Coaching is flexible and can be conducted prior to and/or during a film shoot or recording session. (Coaching prior to shooting/recording is highly recommended.) I also work with actors in post-production ADR looping sessions.
WORKSHOPS
Introductory workshops offered with or without a follow-up option. Workshops can be geared for kids, teens or adults.
RECENT WORKSHOP TOPICS: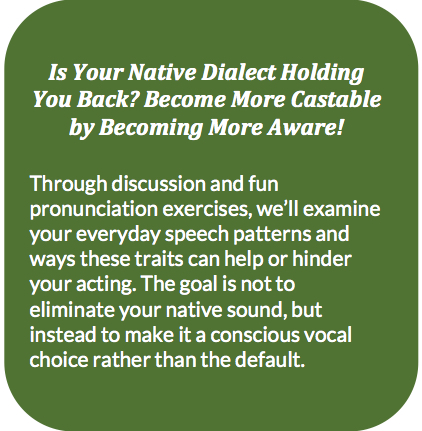 PUBLIC WORKSHOPS:
Public workshops are offered from time to time. More public workshops coming soon!
PRIVATE WORKSHOPS:
Do you have a class or group interested in learning a particular accent/dialect? Maybe you're interested in basic voice and speech? I would love to work with you to design a learning experience that is fun, educational, and applicable to your specific needs! Private workshops can be customized for various ages, acting proficiency levels, and group sizes.
COACHING CREDENTIALS
15+ years experience coaching hundreds of actors for dozens of productions

Proficiency in 20+ accents/dialects; ability to learn/teach new ones quickly

Comprehensive understanding of voice and speech anatomy and production

Editor of and contributor to 200-page handbook Accents & Dialects for the Actor

Co-teacher for 10 years of 16-week course Accents & Dialects for the Professional Actor

Extensive knowledge of Arthur Lessac voice and speech method

Experience with Cicely Barry, Kristin Linklater, Catherine Fitzmaurice and Edith Skinner approaches

In depth knowledge of singing techniques

Keenness for working with kids, teens and adults
MEMBERSHIPS
Pan-American Vocology Association (PAVA)
Lessac Training and Research Institute
Certified Change Leaders, Utah Division of Arts and Museums
VOCAL TRAINING AND EDUCATION
Vocology Certificate, National Center for Voice and Speech / University of Iowa
- courses in voice production, habilitation, instrumentation and performance
Oxford Program, Acting, British American Drama Academy
Bachelor of Arts, Theatre, University of Utah
- linguistics coursework in phonetics, phonology, syntax
Ongoing Training in Singing, Theatre Speech, and Voice Acting